Dunshaghlin 10k, Docklands 5k & Noel Carroll 800m
Dunshaughlin 10K 2019
The Dunshaughlin 10K is one of the great races in the racing calendar in Ireland. It's just got so much going for it and is obviously a race that is fully embraced by the local community. I don't think I've ever experienced a race as well organized as this – loads of parking, quick number collection, they even had a lady checking that there was toilet paper in each of the portaloos before the start! Was great to see reusable cups at the end, and then of course the massive spread in the hall afterwards.
The race itself attracts a strong field. Dunshaughlin AC pointed out in their Twitter feed that the top 5 men and top 4 women were faster than in the National 10k. Running in the same race as Fionnuala McCormack is just frankly ridiculous, but there she was on her warm-up as we pulled into the community centre. People always seem to get good times in Dunshaughlin but the race isn't without its challenges.
The first couple of miles are fast. The start line is just outside the town, then it's downhill into the village before turning left onto the country roads. It's mainly flat at this point but at around the 3 mile mark you hit a much more exposed section and it was at this point that the headwind started to become a lot more noticeable. There was a bit of respite as we turned right into a downhill section but at the start of mile 5 we take another hard right and start heading back for Dunshaughlin. It's at this point you hit a fairly sharp hill and not long after there's another long drag. Thankfully we had the wind at our back through this section.
You can feel the atmosphere building as you hit the last mile and start coming into the village again. Then the signs start, along with the usual inner dialogue. 1km to go…ok that's just a lap of the polo grounds. 800m….that's less than a lap of the polo grounds, that's doable.  300m to go…eh, what the hell is 300m?! At this point the finish line is still out of sight, leaving minimal time for a sprint finish…if you still have one in you (I didn't!).
We had a great result in the ladies race. The dream team of Jill, Siobhan and Brid secured third place in the team competition. An amazing result given the quality of the field. This is the second week in a row that we've come home with a ladies team prize – with two completely different teams. Great to see such depth among our ladies squad.
Jill was first home and, despite battling a knee niggle all week, finished in an excellent chip time of 39:45. Well done Jill. Siobhan Carroll finally paced the perfect 10k and got a PB time of 39:53. It's unclear whether she has Nick or the miraculous medal to thank for that, but great running all the same! Brid Ryan also had a great run finishing in 41:09. Well done Brid. I was next in a PB time of 43:14, followed by Maria Pozo in 46:35.
There were some great performances from our men also. Patrick Coyle produced a PB performance to finish in 34:11. Well done Podge. A 90 second PB from Brian Walls and a sprint finish saw him take Jason Reilly on the line. Brian's chip time was 34:22 compared to Jason's 34:25 but both have identical gun times. Great stuff from the lads. Bernard Duggan also put in a solid performance to finish in 35:53. Podge, Brian, Jason and Bernard finished fourth in the team competition and were agonisingly close to third place. An amazing performance all the same. Well done to the lads.
There were still some PBs to come from the men. Paul O'Neill got a huge PB time, also finishing in 35:53. A PB also for Brendan Healy who finished in 38:22. Well done guys. Eoin Kealy was next in 38:39, followed by Noel Ryan in 39:15. Padraig MacCarron broke the 40 minute barrier with his new PB time of 39:44. Well done Padraig. Next was Thomas Geoghegan in 40:53, followed by Nick Devery in 41:25 and Mark Carroll in 42:37. Owen McFeely had a solid run finishing in 44:36 and he was followed by Brian Boland which finished in a PB time of 44:55. Ken Byrne was next in 46:53, managing to get bragging rights over Maurice Kennelly who finished in 47:23. Well done to all!
(Photos by Peter Mooney https://www.flickr.com/photos/peterm7/)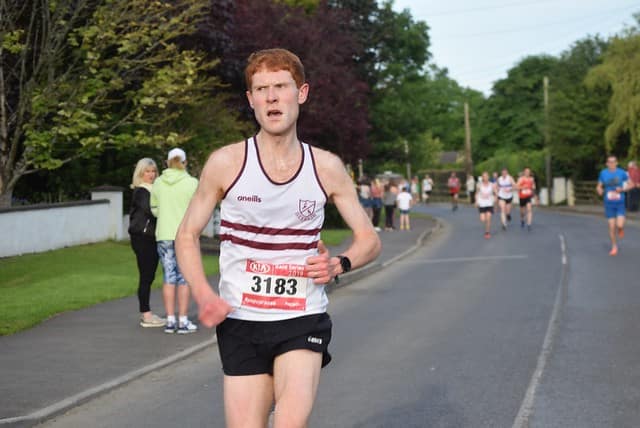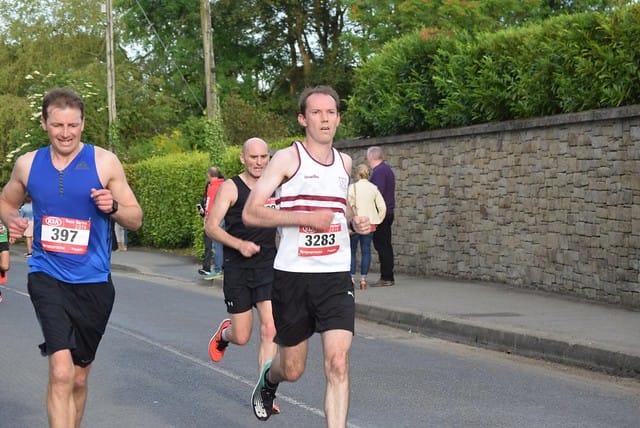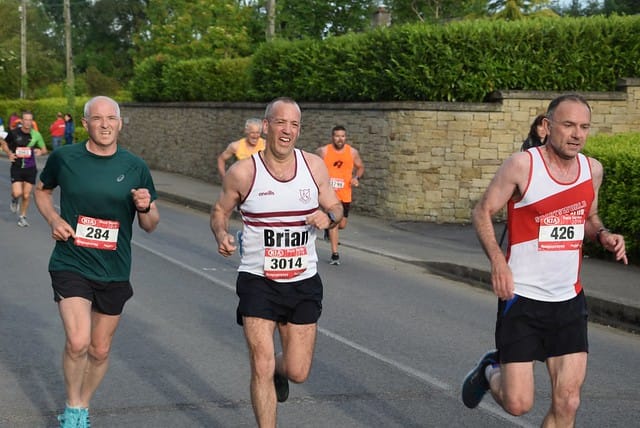 Docklands 5k
It was a completely different environment earlier in the week for the Docklands 5k which took place in Dublin city centre on Thursday evening. Patrick O'Reilly put in a great performance to finish in 17:29, 28th overall. Well done Patrick. Next was Jason Harte in 19:01, followed by Donal Lyons in 20:07 and Brian Boland in 21:53 (PB). Emily Ennis was next finisher in 23:27, followed by Joe Delaney in 24:53. Well done everyone.
Noel Carroll 800m
A final word on the Noel Carroll 800m. This annual race is sponsored by the club and named after Noel Carroll, a Civil Service club member who competed for Ireland in the 800m in the 1964 and 1968 Olympics. There's a great article on Noel here.
Brid Ryan represented the club at this year's race which took place as part of the Le Cheile International in Leixlip on June 8th. Here she is presenting the prize to the winner, Alex Botterill.