We had a different kind of race this weekend with three teams toeing the line for the National Road Relays which took place on a 1 mile loop along the roads of Raheny. We had three teams in the mix – Masters O50 Men (Sean Ryan, Padraig Creed, Nick Devery), Senior Women (Deirdre McCarthy, Laura Cullen, Claire Shanahan) and Senior Men (Patrick O'Reilly, Declan Cassells, Brian Walls, Aaron Mullen). The Masters Men and Senior Women had 3 legs to run (1 mile – 2 mile – 1 mile) with 4 legs (2 mile – 1 mile – 3 mile – 2 mile) for the senior men. These are incredibly competitive races with many clubs bringing out their elite athletes, even Olympians in some cases.
The Masters men were up first with Sean Ryan running a steady first 1-mile leg, followed by Padraig who nobly took on the tricky 2-mile leg, and Nick taking it home for the final 1-mile leg. It was tough going but they held their own among a very strong field to finish 10th O50. Well done lads.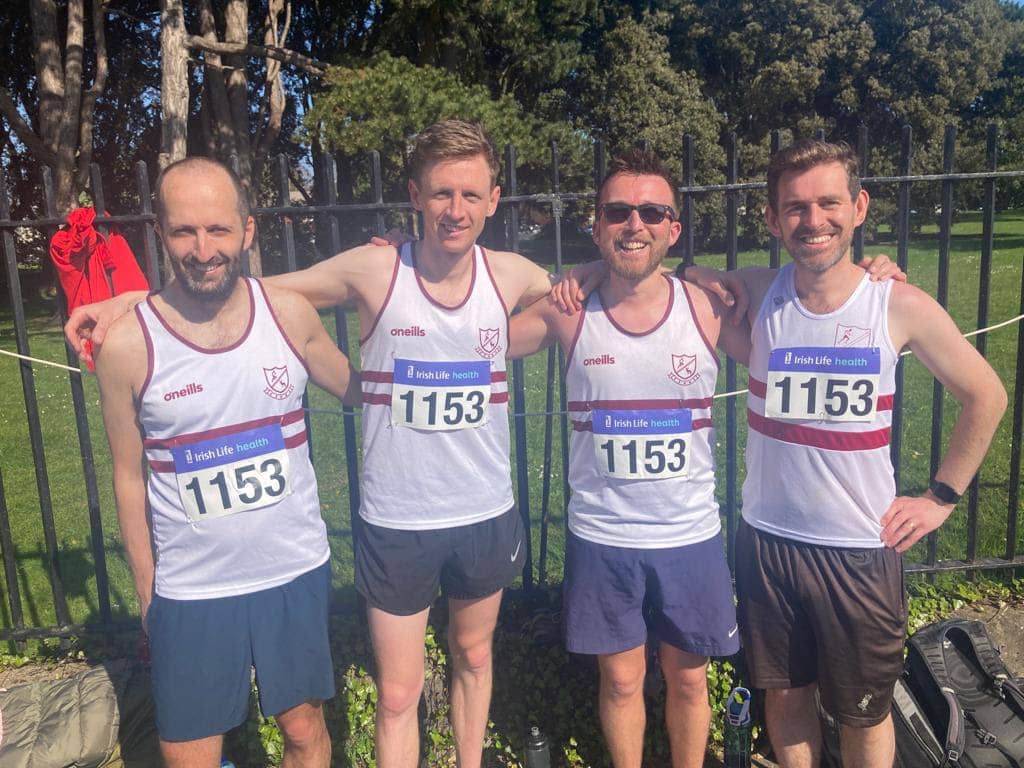 The senior ladies were up next with Deirdre McCarthy, in her first race for the club, braving the first 1-mile leg and running really strongly. Laura Cullen ran a superb 2-mile leg to move the team up the field. It was then up to Claire Shanahan to bring us home and she rang an excellent leg to hold onto the team's position and finish 24th.
After a long wait the senior men were finally up. Patrick Reilly showed no sign of post-marathon or post-Covid fatigue in a strong 2-mile leg which positioned the team well up the field. Declan Cassells took on the shorter – but by no means easier – 1 mile leg, with an excellent run that kept the team well in the mix. It was into the business end now with Brian Walls taking on the tough 3 mile leg for the team. He ran a lightning fast but well-measured leg, making up several paces for the team in the process. Finally Aaron Mullan took off like a greyhound for his 2 miles, looking like he was trying to reign in Mick Clohissey ahead of him. He may not have succeeded in that endeavour, but he still ran a stormer to leave the team in in strong standing at the end, finishing 20th in a top-class field.
Some great performances out there today. Well done to all – you did the clubproud.