Lucan 5 mile,
Ratoath AC Half-Marathon and Charleville Half-Marathon
Dublin City Marathon
6 weeks to go!
Lucan 5 mile
Firstly a somewhat belated congratulations to the ladies team of Brid, Jill and Maria Pozo who were first team at the Lucan 5 mile. Jill was also third lady overall, with Brid not far behind in fourth. Well done ladies!
Congratulations also to Vincent O'Neill who won the M60 category. Full results were:
Jill Horan – 31:56

Vincent O'Neil – 33:48

Brid Ryan – 33:56

Maria Pozo – 37:19

Marie Norris – 40:47

Joe Delaney – 42:36

Tom Turner – 46:16

Margaret Moloney – 47:34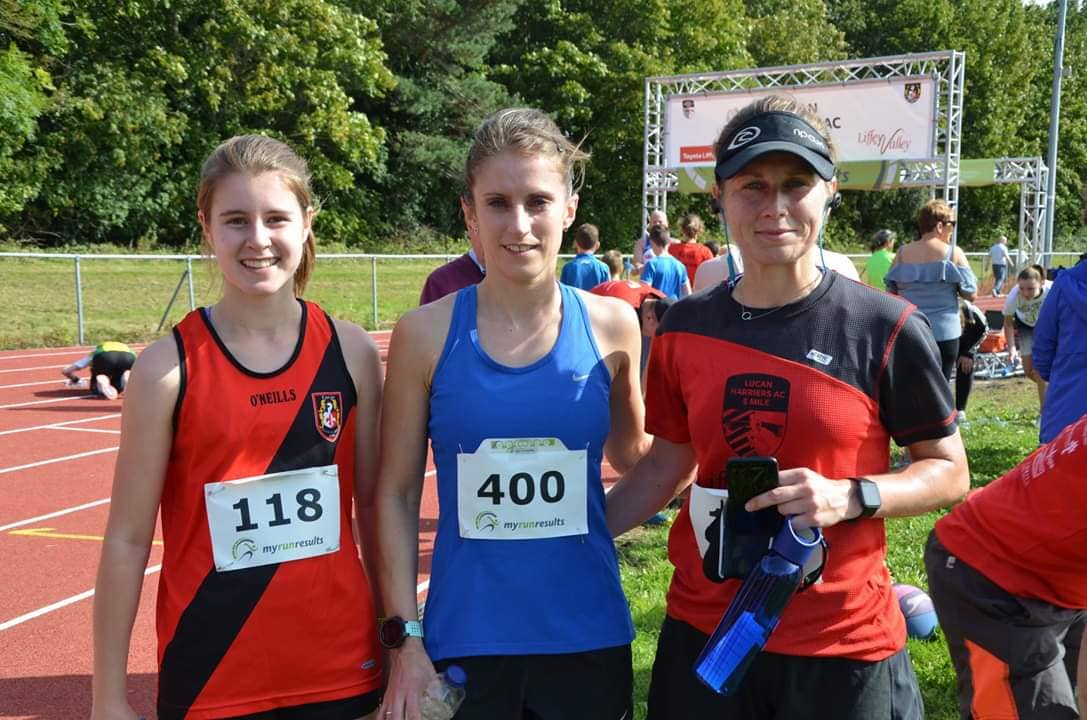 Lots of half marathon action over the weekend as the build up continues towards the Dublin Marathon.
Ratoath AC Half Marathon and 5K
Close to home we had the Ratoath half marathon which is now in its second year. It's a reasonably flat course, however the last 2 miles are challenging with runners having to circumnavigate Fairyhouse racecourse in order to get to the finish line. Patrick O'Reilly was first club runner home in an excellent PB time of 1:17:18. This placed him 11th overall. A fantastic run from Patrick. Next was Eanna Kavanagh who also ran a steady race finishing in a1:20:43 PB. Well done Eanna.
We also had 2 ladies running. Siobhan Carroll broke 1:30, which placed her seventh lady overall and second in her age category. Well done Siobhan. Laura Cullen ran her debut race over this distance, comfortably finishing in 1:37:31. Great running from Laura.
There was also a 5k race on the day. Grainne Butler ran 20:29, fifth place in the women's race. Well done Grainne
Charleville Half Marathon
Further afield Patrick Coyle was flying the flag for the club in the Charleville half marathon, which typically attracts a fast field. This year was no different with the first 11 runners all finishing in under 70 minutes. This was despite lots of runners complaining about the heat on the day. Podge did us proud finishing in an excellent 1:16:37. Well done Podge!
Copenhagen Half Marathon
And even further afield, Susan Waterstone took part in the Copenhagen half marathon which she described as the world's best organized half marathon! Susan ran an evenly paced 1:45, which placed her 6th in the women's 060 age class. Excellent running Susan. Just a shame that Geoffrey Kamworor stole your thunder with that world record!